Welcome!
We believe in connecting people to Jesus and to one another.
At New Vision Church we are Family, Diverse, Relentless,
and Christ-Centered. Come join in on what's happening at New Vision Church!
Our Pastors
– Pastor William S. Peña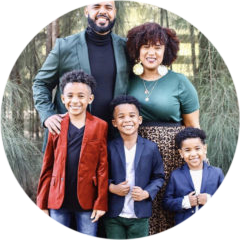 Our Family
William and Marianne are on a mission to have our community transformed by finding the needs and filling them. They can attest that through the power of God's love, families can be wholesome and healthy. They believe that God has amazing things planned for your life and are convinced that He can do exceedingly and abundantly! William and Marianne have three boys Shiloh, Micah, and Mason.
W

e invite anyone and everyone to attend our Sunday Gatherings.
Sunday –
Spanish @ 9:00am •
Sunday – En
glish @ 11:00am