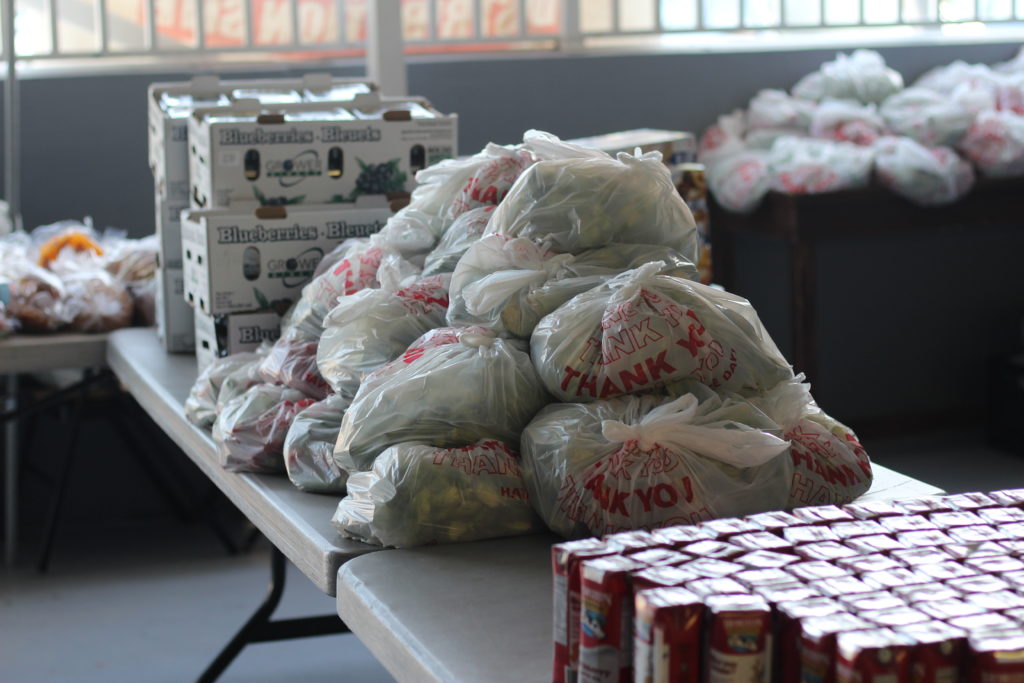 Hunger affects all of us. And sometimes it hits closer to home. That's what happened in 1985 at the height of Migrant wave into the Metro Miami area when leaders at New Vision Church heard about families in the church who were struggling. Circumstances were making it challenging to put food on the table. So several people did something about it. They purchased groceries, put them into the bed of a pickup, and gave them away after one of the church services.
It was one step toward others—and that simple step led to the birth of New Vision Church Food Pantry. It wasn't long before the entire congregation got involved, and the program expanded to become a partner with the USDA, Feeding America, and the Emergency Services Network with weekly distributions.
With a mission to change hunger to hope, the Food Pantry expanded and was able serve people not only in the New Vision church family, but also those who lived in the community— people who needed food and were also hungry for true hope.
Responding to these needs with love, prayer, and practical help, the Food Pantry has changed its name to the Care Center, and together with our Community Development Corporation, Rising Son Foundation, expanded to meet the needs of the growing number of guests who needed help. In an effort to move beyond food, the Care Center has added services including State Benefit Access, Recovery groups, employment counseling, and health screenings.
"We all fall down sometimes. We all encounter trials and difficulties. And in those times, we can curl up in despair—or we can partner with those who will provide strength, encouragement, and hope. The Care Center exists to be that outstretched hand; a steady support so you can stand back to your feet. We all fall down sometimes. We all encounter trials and difficulties. And in those times, we can curl up in despair—or we can partner with those who will provide strength, encouragement, and hope."
Stephanie Romero, Care Center Director
The Care Center team is passionate about providing immediate relief in times of crisis, as well as guiding people toward long-term solutions. From groceries and shelter to education, employment services, and legal consultation, the Care Center takes a holistic approach to serving people in need. Most of all, the Care Center offers an environment of love, compassion, and hope, where authentic relationships can flourish.
Immediate Relief
Meeting immediate needs in a crisis
Food: Individuals or families in need may come to the Care Center once a week to receive groceries free of charge. Fresh fruit, vegetables, dairy, and meat are usually available, in addition to canned or boxed food. Occasionally or partners will also provide us with gift cards that we also distribute to our clients.
Emergency Assistance: through our membership in the Emergency Services Network we can refer our clients to receive TANF, SNAP, and other emergency assistance.
Long-term Solutions Steps toward a stable, financially secure future
Care Team: The Care Team exists to provide encouragement and hope to people in difficult circumstances. Volunteers listen to each person's story, consider the situation objectively, and offer wisdom and practical next steps.
Employment: Employment consultation is available to anyone who is unemployed or seeking a job that better aligns with their abilities and goals. Services include advice on looking for a job, writing a résumé, filling out applications, networking, and preparing for an interview, in partnership with South Florida Workforce.
Health Services: Blood pressure, iron, and glucose screenings are available to help identify health issues before they become serious. If a problem is found, referrals to other organizations for additional care are provided.
Recovery Program: is a biblical and balanced program that helps us overcome our hurts, hangups, and habits. It is based on the actual words of Jesus rather than psychological theory. It was designed as a program to help those struggling with hurts, habits and hang-ups by showing them the loving power of Jesus Christ through a recovery process. A group based curriculum with individual meeting session to help those needing to build themselves back up.